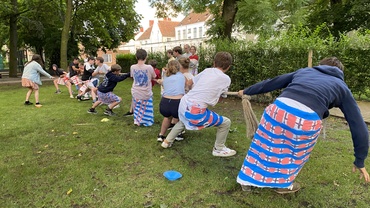 Goal-oriented communication, creativity and a learning experience tailored to the needs of our participants: Roeland uses these three didactic principles as a solid foundation. Jonathan Delmeire, Pauline De Baets and Tom Vandevelde talk about how they implement this trinity of teaching methods at our camps.
"What does your superhero look like and what are his or her superpowers? It is just an example of a task our participants work with at camp, to practise how to describe a person", says Jonathan. "After they compose their ideal superhero, they compare him or her with the other creations: which superhero is the fastest runner, which one is the biggest, which one has the most gadgets, …? The task ends with a real contest. It is a great way for our participants to learn how to speak in a foreign language, without inhibitions.
Three didactic principles
Pauline De Baets, deputy general co-ordinator: "The difference between Roeland and traditional language lessons is found in our playful, creative and active approach. We believe it is especially important that learning does not exclude having fun. Our language labs emphasize on playfulness, and our participants are divided into compact groups to secure a personal approach."
Jonathan Delmeire, former co-ordinator didactics: "We focus intensively on communication. The students are encouraged to speak as much as they want. The teachers don't teach in a classic sense: they moderate the debates, they guide the plays and games, …"
Tom Vandevelde, co-ordinator didactics: "We really believe in what we do. The participants learn about what they like, and they do so by speaking a foreign language all day long. If we visit a city the next day, they ask questions about what we are going to see there. If they are about to play a new game, they will want to learn about the rules and how to win it. It's a great way to involve them profoundly in our language courses."
Dare to speak
Pauline: "Our participants have to speak in a foreign language from day one. Some of them are a bit afraid of that at first, but we keep our activities playful and amusing to take away that fear, while we encourage them to speak the new language. They learn that making mistakes is okay. Even if they make the same mistake for the umpteenth time, our teachers correct them with a smile."
Tom: "During meals, the teachers eat with the children. They pick their place at the table so that every teacher can join in on the conversation of 10 to 12 children. We never miss an opportunity to assist the children in their learning process."
Jonathan: "Because of that personal approach, the teachers get to know the children very well. The teachers include the less outspoken children by asking them about their hobbies, if they enjoyed lunch, what they learned that day … The chill mood at the camp combined with the professional guidance lowers the treshold for speaking and boosts the confidence of all our students.
Didactic innovation
Jonathan: "Our didactic material has been completely renewed these last couple of years. We want to keep ourselves up to date with the interests of today's youth, and we also want our didactic principles represented in all our camps. Besides that, we want to support our volunteers all the way, so they feel at liberty to develop new ideas and to put them to the test. We value their freedom to create and try out new things."
Pauline: "We also focussed strongly on a new way to split up our students in matching groups. Every camp now starts with a 'get to know you' game, the perfect setting for our teachers to assess the language skills of our participants in a friendly, playful way.
Tom: "We also organize multiple training sessions for our volunteers every year, where Didactics is a recurring topic. It is the perfect way for our volunteers to exchange new ideas and to stay up to date. A lot of our volunteers are schoolteachers or trainees, and Roeland feels strongly about coaching them on a permanent basis."
Roeland versus school
Pauline: "A Roeland language lab picks up where formal schooling stops. Students pick up a lot of grammar at school, but there is less time to practice in a natural environment. That is precisely what we do at our camps, because our participants are being fully immersed in the language of their choice and stay in close contact with native speakers. It's the perfect addition to the lessons at school."
Jonathan: "The participants experience quickly that a language camp is the perfect place to speak uninhibited in a natural setting, a tremendous boost for their self-confidence."
Tom: "Roeland shows our participants that speaking a foreign language is extremely useful and a lot of fun on top of it."