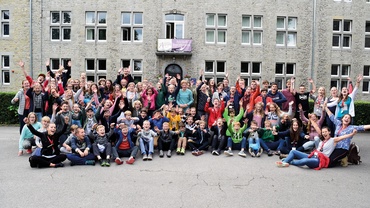 "As far as I'm concerned, the most important thing is that the children always speak in the target language at camp", says Ann Miller. Her teenaged daughters, Leonce and Louisa have taken part in a number of French camps in recent years. "Immersion in the language is the best way to learn it."
Love of languages is in the family. Leonce and Louisa are on stage from 4 January 2020 until 19 February 2021 with their parents, the well-known actors Ann Miller and Filip Peeters, performing the play 'Familie' in a number of countries.
Choose a Language Camp
"It is their decision to go to camp", says Ann. "Of course, we encourage them to go. I think it's better to go on a language camp than a regular camp. Both kinds of camp are fun, but on a language camp the children are learning as well as having fun. And it is always a good thing to learn languages."
"I went to Roeland camps as a child, myself, so I know what a good reputation you have. When my daughters went to camp for the first time, I told them that they must always speak in the target language at camp. Otherwise they would have to come home", laughs Ann. "But since then, they have been on quite a few camps, and they always come home feeling really happy."
"One of my daughters asked recently whether Roeland organizes camps without language lessons, or with hardly any lessons. She wants to enrich her language knowledge whilst doing sports, playing games and taking part in creative workshops", says Ann.
Rule : No Speaking Your Mother Tongue
"You make sure that the children speak only the target language from morning until night. It might seem a bit strict, but I think this is an essential aspect of camp. Lots of children go on camp together with a friend. If they speak their mother tongue to each other at camp, they won't be learning much."
"But my children don't think it's too strict, actually. On the contrary, they have such a great time. On the first day of camp, the rules are always explained to the participants, including the rule about not speaking in your mother tongue at camp. There will always be children who stick to the rules and others who try to push the boundaries."
Big Step Forwards
"It was particularly clear to me how much they had learned after their first time at camp. When they left, they knew a few words here and there, but when they came back they were speaking in full sentences. They were also really happy that they had made such good progress."
Enthusiastic Volunteers
"One of my daughters is still in touch with the group from her last camp, but the main thing they still talk about is the volunteers. It is clear from the stories they tell that the volunteers are really enthusiastic about what they do. My children were not bored for a single moment."