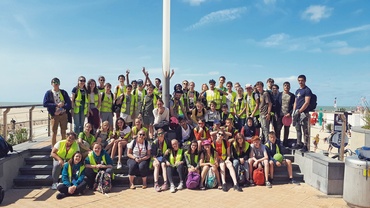 "I'm now in my second year at the Francisco Ferrer college in Brussels. I decided to do the bilingual French/Dutch programme", says Roeland camp participant Sarah Kyzilas proudly. "I've got Roeland to thank for that".
"In 2018, I went to a camp at Sutton Town for the first time", says Sarah. "I had such a great time there that I signed up for the Dutch camp in Ghent the following year."
The Singing Sessions are The Best !
"One of my best friends persuaded me to go on a Roeland camp. She went to Gold Hill and was unbelievably enthusiastic about it afterwards. Every time I saw her, she would start talking about what a great time she had there. When my parents also encouraged me to sign up, I decided to go for it."
"I was so excited about going to camp. I think it's important to learn new languages and I love meeting new people. Roeland camps really fulfilled these wishes for me. I'll never forget the singing sessions at Sutton Town. Singing together was so much fun !"
Bilingual Education
"I'm studying to become a primary school teacher. Some of my subjects are in Dutch. I chose this because I think it's important to speak more than one language, especially when you live in Belgium."
"Not that many of my fellow-students chose the bilingual programme, probably because it's a bit tougher. I have an extra four hours of lessons per week – quite shocking !"
"I had already taken Dutch at secondary school, but the Roeland camps which I went to gave me the self-confidence to choose this bilingual programme. And next year, I will be doing a semester in Dutch as part of the Erasmus programme."
Love Roeland !
"I can understand why some young people might be reluctant to go on a language camp. But my advice would be to just go for it. It's such a great experience, you learn a new language and you meet new friends. You won't be disappointed."
"I absolutely loved my time at Roeland camps. So much so that I'm planning to go back as a volunteer in 2021."