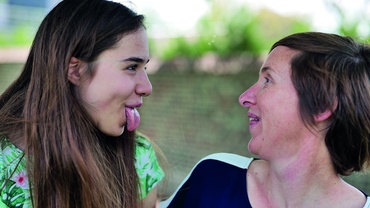 "At school, I am doing the 'STEM' programme because I prefer science and maths to languages" says Kato (14). In 2019, Kato took part in a Roeland French camp at Virton for the first time. "She was initially reluctant to go", recalls Kato's mum Annick Vandezande, "but almost a year later, she is still singing the French songs from camp !"
"I'm re-reading all the Harry Potter books, only this time I'm reading them in English", says Kato. Her mum laughs : "The reason that Kato has chosen maths and science subjects at school is that languages are not her strong point. She is now reading books in English because she was raised partly in English. So English is no problem for her. But French is another matter – she hasn't always been so keen on French."
Why did you sign Kato up for a French language camp ?
Annick : "I went to Roeland camps as a child myself. There wasn't as much choice in those days as there is now, but I always really enjoyed the camps. I thought "Let's give Kato the opportunity to learn French in a fun environment, too".
Were you enthusiastic about going to camp straight away ?
Kato : "No. The day before camp started, I told Mum that I really didn't want to go. I thought camp would be full of other girls who were only there because their parents had insisted that they go. I didn't want to be stuck at a camp with a bad atmosphere."
"But I was wrong. The group was really cool. We all shed a tear when camp was over. I felt really homesick when I got home ! Everything I saw or heard made me think of camp."
Annick : "You wouldn't believe how many times we have heard the camp songs ! She listens to French songs on Spotify now, which is proof that she has really grown to love the language. You only really learn another language when you can appreciate its beauty."
What was the coolest thing you did at camp ?
Kato : "Everything was really cool ! I really liked it that you were given a choice of activities. I chose theatre. I created a play which I performed to the others at the end of camp. It was great fun. We also built a raft which could float down the river. We had to win the materials to make it first, which we did by completing challenges.
And the night game was cool, too. We had to prevent a bomb from exploding by finding all the letters. But the volunteers could catch us and hold us prisoner for two minutes."
"The games at camp are just as fun as the ones you do on other camps, but the difference is that here you are speaking a different language."
What was the best thing about camp ?
Kato : "The food ! The food was so yummy. And I like to eat, especially healthy food. I particularly loved the delicious soup. When everyone else had finished eating, I went back for another bowl-full. I even got a diploma at the end of camp : La fille la plus gourmande."
Did you learn to love the language while you were at camp ?
Kato : "I'll never be someone who enjoys studying languages. But camp definitely gave me more confidence in speaking a foreign language. I don't care if I make mistakes. I just chat away."
"When we went on a Roeland city trip to Lille, I continued to speak French all the time, even though my classmates didn't want to. Afterwards, the volunteer told my teacher that I can speak good French."
"Writing is something I still don't enjoy much in any language. But reading assignments are going better than they used to. Thanks to the Roeland camp, I now find it easier to make the switch from Dutch to French."