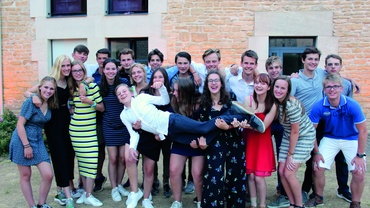 Photo: Ellen Van Damme (in the red dress) with some friends at camp in Ancy
"The bilingual coaches refused to speak Dutch to us and encouraged us to speak French" says Ellen Van Damme, who has been to camp at Ancy the past two summers. "It was pretty funny. But since then we have become Facebook friends and we tend to speak French together."
"I'm good at languages. Well, I think so, anyway. I love the French language. I already learn French at school and I wanted to find a fun way to learn a bit of extra French in my free time, but I couldn't find anything. Until my parents suggested I should go on a Roeland camp."
At Roeland camps you have to start speaking French straight away. Don't you think that's a bit harsh?
"I was prepared for it. In the beginning it was a challenge, but the coaches are on hand to help you. If you can't think of a word they help you by saying "is this what you mean…?" in very simple French. That helped me to learn a lot quickly. "
"We were constantly encouraged to speak French. They would have a word with us about it if we tried to speak Dutch, which I thought was a good thing."
What would you say Roeland's strengths are?
"The connection between the coaches and the children. We spend whole days together and do everything together. And they were great at making sure that the language workshops were always interesting for us. For example, we would have conversation sessions based on themes which were relevant to us and our lives."
"Everyone was made to feel welcome at camp, regardless of their level of French. We were split into small groups depending on our level. If anyone spoke Dutch, the coaches would ask them to translate it into French. And if they really could not manage, they would take them to one side and practice saying it with them."
It's not always easy to express yourself in another language. Did you manage to express your thoughts and feelings?
"Yes, I managed. If I wasn't feeling great or if something was bothering me, I found a way to say it. But it was always challenging."
Did you learn a lot at camp?
"Absolutely. Talking French really helps. Now I can hold a conversation in French. I still make mistakes, but when I am corrected I try to remember it for the next time. Especially after my second camp - I really came away thinking "I can speak French!" "