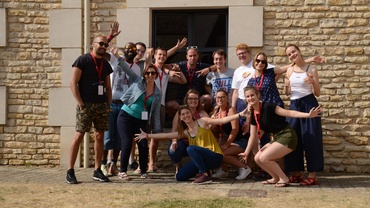 Photo: Ellen with her team, front in the middle with the yellow top
"Roeland vzw departs from its volunteers' capacities," explains Ellen Zmierczak, Head of Project. "You get the opportunity use all your talents to the fullest. This way, the quality and fun level of the camp are guaranteed."
From logistic staff member to activity leader: Ellen has taken on different roles as a volunteer at Roeland. This year, she is Head of Project for the first time at the camp Douce France in Ancy (French 12+).
Why are you a volunteer at Roeland vzw?
"In the fifth grade, I went on a Roeland camp for the first time. The first year, it was my parents' choice. The following years, it was my own. These camps were the highlights of my summer. Becoming a logistic staff member at Roeland was a logical next step."
"Even as a volunteer, I look forward to the camp each year. Together with my team, I start counting the days until the summer from September onwards. I have made an incredible number of friends. During the year, I see them less often than I would want to because they live too far away, but I can always count on them."
"Of course you expand your language skills at camp. I especially developed my social skills. I will never be very talkative, but I can definitely stand up for myself. If there is something wrong, I just say so. This is really necessary because you have to live with each other for one or two weeks."
What do you like less as a volunteer?
"At camp, the days are quite long, and I usually can't handle the weariness very well. You are constantly occupied with working for and with the participants. Even if you have a free moment, you are still at camp and you want to help your colleagues with their activities when necessary."
How much time do you spend as a volunteer?
"It depends on your function. As a logistic staff member, you don't have that much to prepare. As a teacher or an activity leader you do, but it's still manageable. The Roeland volunteers arrive at the camp one day before the participants, to prepare."
"Workshops and games are made beforehand, but the lessons aren't because you don't know the language level of the participants yet. This doesn't really matter, because there is enough teaching material for all levels to choose from."
Do you have to be a teacher or study to become a teacher to be an activity leader or teacher at Roeland?
"Not at all. Every camp has a Head of Project, a Head of Didactics, a Head of Activities and a Head of Logistics who are glad to help you."
What makes Roeland different from other camp organisations according to you?
"Roeland provides one volunteer for four participants, which makes the organisation unique. Nobody offers such a strong staff-participant ratio. This way, you have the time to actively participate in the activities, which makes you really connect to the group. The togetherness is great."