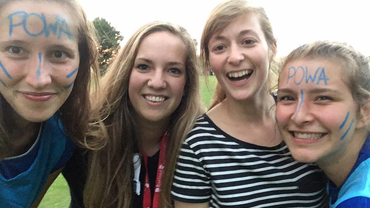 Photo: Margot, second from the left
"Enjoy your job at camp to the fullest! That is what I learned above all as a Roeland volunteer", says Margot Berwouts, nurse and teacher at Roeland. "You see how much the participants enjoy themselves and that really makes it all worthwhile."
Margot started a couple of years ago as a logistic staff member after she saw a Roeland advert online. "I decided to sign up as a volunteer last minute, because I was available and wanted earn some extra money. I loved it from the start", declares Margot. This year, she participates in two camps in England: one as a nurse and one as a teacher.
What is expected from you as a volunteer?
"As a nurse, you need a First Aid certificate. You support the staff team by helping children who are having a hard time at camp, and you provide First Aid when necessary. In between, I also help other staff members whenever I can."
"As a teacher, I get to teach my own class, and I join them for meals and some other activities as well."
Can you choose which camp you work at?
"In the beginning, I always applied for several camps. During the last few years, I have always volunteered for a camp in Cottesmill, and I managed to be part of that team every summer. You cannot always expect to get your first choice though: sometimes the team of your choice is already complete because all last year's staff is returning.
How and when did you meet your current team?
"The first time I went on a camp with Roeland, I met the team on the spot. Now that I have been going to the same place for years, I know most of the volunteers in the team of course."
"Every summer, some new faces appear. I realise it is not always easy for them to end up in a group of friends that have already known each other for five years. Therefore, I always try to involve them in our group. I have met my best friends through Roeland."
You teach English but you graduated as an occupational therapist? How did that happen?
"As I participated in English summer camps so often, my English skills improved tremendously. The Head of Didactics also noticed this and asked me if I wanted to teach classes. I then signed up for Roeland's training weekend."
"How do you create a good language activity? What does your daily schedule look like? What are the most important things children have to learn? What skills do you need to focus on? How is camp different from teaching at school? At the training weekend, you learn how to create good, interactive language activities and you get a lot of practical information as well."
"You don't necessarily have to be a teacher or study to become a teacher to teach language workshops. At the training weekend, you learn the basics and at camp you learn while you're doing."
How much time do you spend preparing before the camp starts?
"Not that much. Sometimes I find an idea that I think would be nice to use at camp and I write it down. But very often, I make my preparations for the classes during the camp itself."
What aspect of being a volunteer do you like the least?
"You are away from home a couple of weeks. You are always busy, so there is not much time to keep in touch with the home front. After camp, you really need a day or two to recover. This is what you definitely need to realise before becoming a volunteer."
What is your nicest memory?
"The first time I taught I had a group of approximately 10 children. The last day, they made a couple of presents for me. That is when you realise how much they enjoyed the camp."
What did you primarily learn thanks to Roeland?
"I have just found my first job. In the sector I will be working, my experience in youth work is very much appreciated. When they asked me about my strengths at my job interview, I gave some examples from my Roeland experiences. This gave me extra credit in comparison to other candidates.
What makes Roeland different from other camp organisations according to you?
"Any participants older than 12 have to speak the target language from day one. This way, they pick up the language very quickly, quicker than they realise themselves. The total immersion approach ensures they make more progress than at other camps."
"You also get a lot of support: from head staff, but also from Roeland's staff members in the office. Every time they visit us, you can see they are there for us to help".
What advice would you give to potential volunteers?
"Just do it. Don't think you are working 24 hours a day: you do have a little spare time. Also try different functions. I started as a logistic staff member, but after that I worked as a bartender/secretary and now I am a nurse and a teacher. This way, you definitely find something that suits you."